Massage Therapy - $89/Hr, $129/90 Minutes
Membership rate - $69/Hr, $99/90 Minutes
Instant Gift Certificate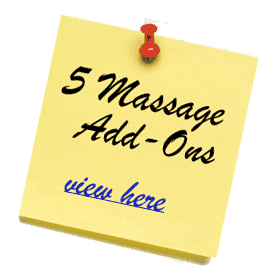 What type of massage do you need?
We all know the two main types of massage:
Swedish massage
Deep Tissue massage
Some of the new more advanced modalities that are becoming better known are: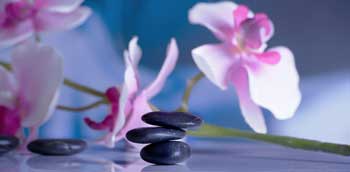 Neuromuscular therapy
Myofacial Release
Craniosacral Therapy
Sports massage
Orthopedic or Structural massage.
What we can do as massage therapists to help soft tissue injuries depend largely on our training. The field is growing fast and becoming increasingly sophisticated in its approaches to many conditions and every day body aches and pains.
Many people become interested in massage for several reasons: to relax and de-stress, for relief from chronic aches and pains, and to rehab a strained part of the body.
Our massage therapists see lots of runners and athletes that want us to target specific areas of the body. We also see a lot of clients that are over-worked and needing relief from chronic aches and pains associated with long hours at the computer.
In choosing a massage that fits your needs, it is important to identify your hierarchy of needs. Is your highest need to de-stress? Or do you need help in healing a specific area?
We see some people get the most benefit with just a nice pampering, nurturing, and relaxing Swedish massage. Stress is the number one thing causing our bodies to break down! Other clients come in wanting us to perform exceptionally deep tissue and myofascial massages so they leave feeling very worked over. For those clients, a relaxing Swedish massage feels "froofy" and is almost aggravating to them because they don't feel like it had any benefit.
Let's just say that all massage and all types have huge benefits. Massage has been studied now for many years and shown to have a myriad of benefits for everyone. If you are interested in the more advanced modalities you will need to research a business like Balance Wellness and Massage, which caters to those types of services and to those clients.
Expecting to go to a common day spa and get a very advanced deep tissue and neuromuscular massage is like expecting to get your transmission rebuilt at the local Jiffy Lube. They either won't be able to do it or they will try to accommodate and miss the mark by a long shot. Most therapists either fall on the side of relaxation specialists, or clinical bodyworkers. It is all about where there passion is and what they think is most beneficial, relaxation or helping fix the body.
In our society today, whether you are an athlete or just the average person putting in way to many hours in front of a computer or standing on concrete floors, you probably are interested in long term relief of your chronic aches and pains. In this case you will need to experiment a bit with the Deep tissue modalities. Deep tissue simply means that the focus of the massage is on the deeper structures of the body that are usually referring to the soft tissue connecting to the spine or hips. Those are the main muscles that are directly effecting posture.
I always recommend finding a massage therapist that has lots of advanced training. You will be able to tell the difference! Think of all the modalities and training the therapist has received as tools in their tool box that they can access to address all sorts of body issues. We hope you come see us on your own journey towards health, less stress, and a better body.
There is one obvious choice for a massage in Georgetown Texas, Balance Wellness & Massage in Georgetown TX. Our therapists have over 3,000 hours of training in advanced modalities. We trained at nationally-accredited massage institutions locally and abroad. We use 100% organic massage lotion, and we offer heated tables and aromatherapy.Our expertise sets us apart!
Massage for Everyone:
When we massage, we methodically manipulate your body tissues with our hands. When a person is getting a massage, it is often to relieve pain, relax muscles, and speed healing. These are usually deep-tissue or sports massage and our spa massage. We have soothing and relaxing spa treatments and services.
Ben is a Georgetown Texas professional with the knowledge and training to give excellent deep tissue and sports massage.
Many people living and visiting Georgetown TX are seeking the wonderful sensation and pleasure of a Swedish massage. Ben provides them with a natural quality of touch.